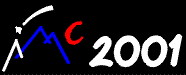 The 20th IMC was organised by the Astronomical Association Javornik from Ljubljana and the Society for Technical Culture of Slovenia, with the assistance of the MBK team from Maribor. The participants were hosted in the ski hotel Cerkno situated in the small town Cerkno situated in the mountains, which offered everything from conference hall to a bar, especially opened for IMC participants.
It was the first time that a lot of participants came just to share their thoughts on meteors and personal recollections on good Leonid years and to see old friends, but not to present a talk nor an article except just a poster. This resulted in a little thinner edition of the IMC Proceedings. Never before the IMC gathered such an international audiance. The Saturday evening Astroshow became international as poet astronomers from two other countries added their work to the Romanian group. The excursion offered a visit to the Postojna Cave (the most famous Slovenian cave) as Slovenia is the owner of the Karst region in the hinterland of Trieste, which gave name to all karts regions in the world.
Acknowledgement : We thank Axel Haas, Javor Kac, Mihaela Triglav and Valentin Velkov for providing photographs of this 2001 IMC.