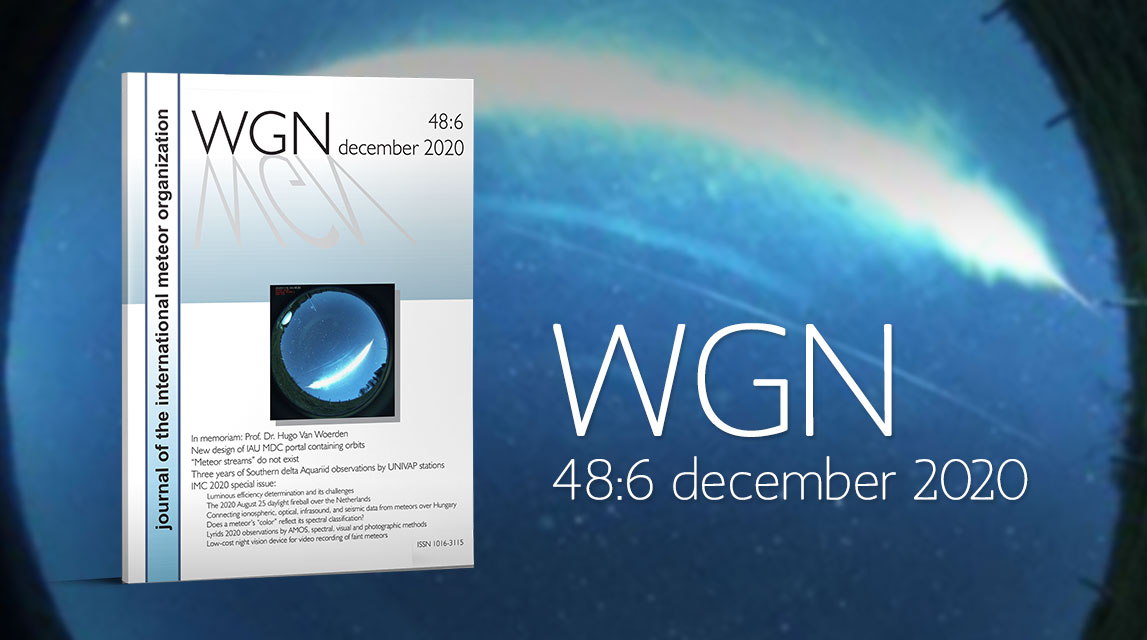 The December 2020 issue of the IMO Journal is now in print. It will be mailed shortly and subscribers can also immediately access the journal in PDF format. The contents this month:
In memoriam: Hugo van Woerden (1926 – 2020) (F. Bettonvil)
On the new design of the IAU MDC portal (L. Neslušan, V. Porubčan, J. Svoreň, M. Jakubík)
"Meteor streams" do not exist. (J. Vaubaillon)
Southern delta Aquariids (SDA) meteor shower registered by UNIVAP stations in the triennium 2017, 2018 and 2019 (F. C. R. Fernandes, L. A. Caritá, I. Rodrigues, G. J. A. Pimentel, R. C. A. Silva, P. B. Matos, V. D. Reis de Castro, J. C. Oliveira)
Luminous efficiency determination and its challenges (E. Drolshagen, T. Ott, D. Koschny, G. Drolshagen, F. Colas, S. Jeanne, J. Vaubaillon, B. Poppe)
Another Daylight Fireball over The Netherlands: The event of 2020 August 25 (F. Bettonvil)
Connecting ionospheric, optical, infrasound and seismic data from meteors over Hungary (A. Kereszturi, V. Barta, I. BondĂĄr, Cs. Czanik, A. Igaz, P. Mónus)
Does a meteor's "color" reflect its spectral classification? (A. V. Moorhead, A. Kingery)
Lyrids 2020 observations by AMOS, spectral, visual and photographic methods (J. Tóth, P. Matlovič, P. Zigo, L. Kornoš, J. Šimon, T. Paulech, M. Baláž, Ľ. Polčic, A. Pisarčíková, D. Žilková, D. Bartková, J. Dudík, J. Licandro, J. Mäsiar, S. Kaniansky, R. Barsa, P. Vereš)
Low-cost setup using a night vision device for video recording of faint meteors (O. Tarasov, K. Moskvin)
Photo: Bright fireball on 2020 November 19, at 02h 46m UT, from Kepler Remote Observatory, Austria. Photo courtesy: Kepler Remote Observatory.