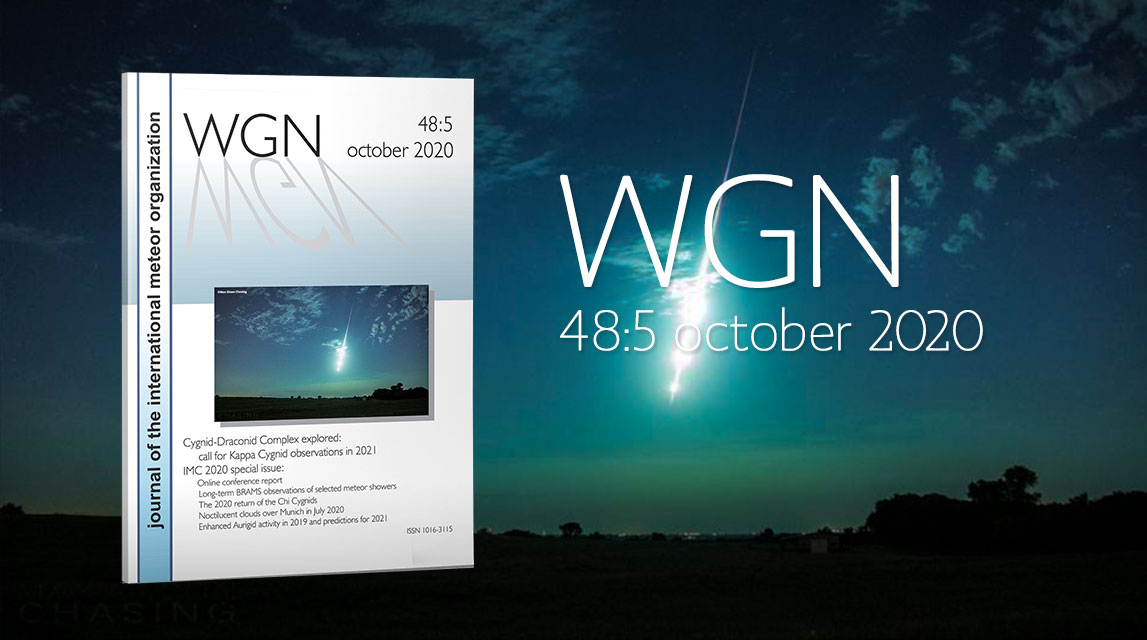 The October 2020 issue of the IMO Journal is now in print. It will be mailed shortly and subscribers can also immediately access the journal in PDF format. The contents this month:
From the Treasurer — IMO Membership/WGN Subscription Renewal for 2021 (M. Gyssens)
Cygnid-Draconid Complex (κ-Cygnids) II: Call for observations, κ-Cygnids 2021 (M. Koseki)
Special issue of WGN: IMC 2020 (C. Verbeeck)
Experiencing two different and unique versions of IMC (S. Bhattarai)
Year-to-year comparison of BRAMS forward scatter observations of selected meteor showers
(C. Verbeeck, H. Lamy, S. Calders, A. Martínez Picar, A. Calegaro, M. Anciaux)
The 2020 Chi-Cygnids (P. Jenniskens)
Noctilucent Clouds over Munich in July 2020 (P.C. Slansky)
Enhanced activity of the Aurigids 2019 and predictions for 2021 (J. Rendtel, E. Lyytinen, J. Vaubaillon)
IMO Event#2967-2020, fireball caught over Kansas on Friday, 2020 June 19. Photo courtesy: Max Olson.