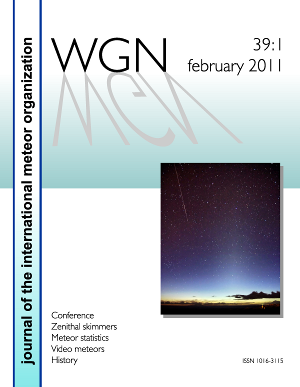 The February issue of the IMO Journal is now in print. It will be posted shortly and subscribers
can also immediately access the journal in PDF format. The contents this
month:
Editorial – New project series (J. Kac)
Call for photographs (J. Kac)
Janus (D. Asher)
From the Treasurer – How can you support your organization? (M. Gyssens)
International Meteor Conference 2011 – 30th edition – September 15-18, Sibiu, Romania (V. Grigore)
Financial support for IMC 2011 participants (J. Rendtel, M. Gyssens)
Call for Future IMCs (J. Rendtel, M. Gyssens)
Interstellar zenithal skimmers (M. Beech)
A Note on Poisson inference and extrapolations under low raw data and short interval observation conditions (P. B. Bias)
Results of the IMO Video Meteor Network – November 2010 (S. Molau, J. Kac, E. Berko, S. Crivello, E. Stomeo, A. Igaz)
History of Meteor Observing Project: An overview of British meteor observing, Part I, 1563 to 1860 (A. McBeath)
Instructions for writing an article for WGN may be found in "Authors, Writing for WGN" [PDF].