The Proceedings of the 35th IMC, edited by Adriana and Paul Roggemans, are out. They are available for free download. Participants who have ordered a printed copy, will receive one soon.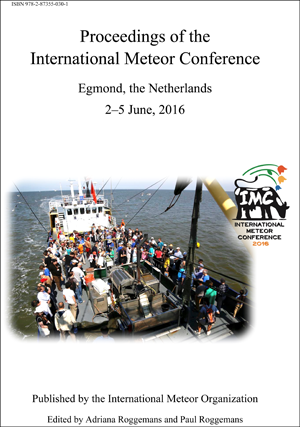 From the Foreword by Felix Bettonvil, chair of the Local Organizing Committee and member of the Scientific Organizing Committee, we quote the following: "We all saw that the field of meteoroids-meteors-meteorites is a very exciting one, and every year more and more so. The specialization of visual observations, the initial goal of IMO in gathering these worldwide, is accompanied now by many other techniques, best maybe video, but also spectroscopy, radio, simulations, software, lab experiments. Modelling and forecasts improve year after year, and rather than making observational results less important, all these models and theory actually ask for yet more – and better – observational work. The specialism of meteors touches an ever increasing number of other disciplines: meteorites, comets, asteroids, hazards for spacecraft. And last, but not least, technical innovations, like almost everywhere, truly become interdisciplinary." Of course, the rich, high-level content of these proceedings reflect this observation about the 35th IMC.
We wish you all happy reading!