On November 9th, 2020, 03h 47min UT, a very bright fireball was widely observed: 8 months later, on July 4th, 2021, meteorites associated to this meteoric event were recovered in Kindberg, Austria: the first meteorite recovery in this country since 1977!
November 19th, 2020, 03h 47min UT: a dramatic fireball
On November 9th, 2020, 03h 47min UT, a very bright and very long-lasting (24 seconds!!) fireball was widely observed and reported from Austria, Southern Germany, Northern Italy and Czechia (Figure 1). Pictures and videos gives an idea of the dramatic event (Figures 2 & 3 and video).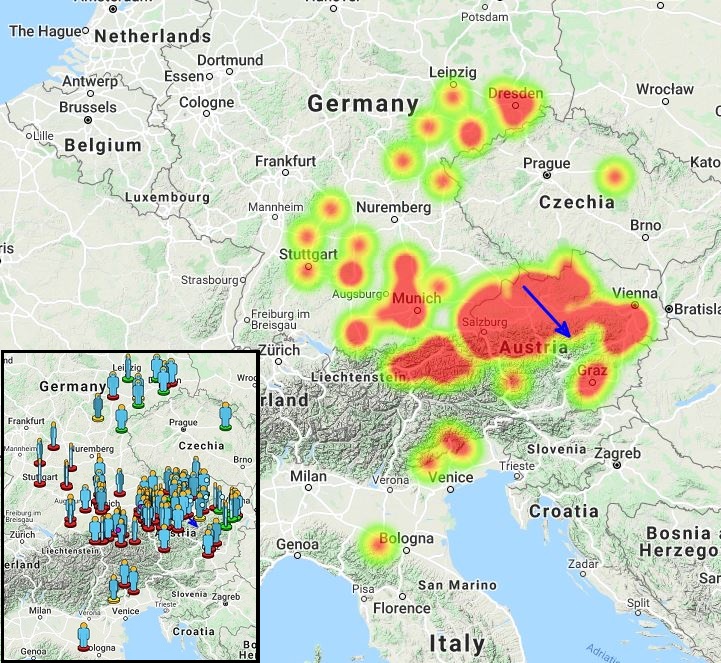 The origin of this event was a 270 kg meteoroid that entered the atmosphere at approximately 14 km/s above Eastern Austria…
July 4th, 2021: chondrite recovery in Kindberg
Short after the fireball was observed, meteorite search campaigns were carried on in the potential strewn field that extended over a wide (50 km x 3 km) and mountainous area from Lunz am See to Kindberg. No meteorites were recovered. People were however involved through citizen science projects, and encouraged to look at the ground while walking: weeks long, several pieces of rocks were sent to the Museum of Natural History (HNM), all of them being wrong meteorites. It's 8 months later, on July 4th, 2021, that a 233 g piece of rock found near Kindberg by a person who attended the first meteorites search campaigns eventually attracted the attention of Ludovic Ferrière, curator of the meteorites collection of the HNM. The 8th in Austria over the last 250 years, and the first since 1977!
With its apparent fusion crust, no doubts were allowed: this was a meteorite, lately classified as a L6 ordinary chondrite. This was a piece of a wider broken rock, but for the moment, no other pieces of the orginal rock was find. No doubts new search campaigns will be organized in the close future, so stay tuned in case other pieces of the original meteorite were discovered!