Two weeks ago, the annual International Meteor Conference (IMC) took place in Bollmansruh, Germany, not far from Berlin. This year the conference was hosted by the Arbeitskreis Meteore, a group of meteor workers and observers which has been very actively involved in IMO since its foundation in 1988. With 99 participants from 23 countries, attendance was a bit smaller than usual, which can be attributed in part to the fact that some people had to choose between attending the Meteoroids conference in June and the IMC in October. Another factor is that the period in early October seems to be less convenient to several regular participants. This did not prevent the conference to be a great success, with a splendid organization, a cosy venue and an exciting program!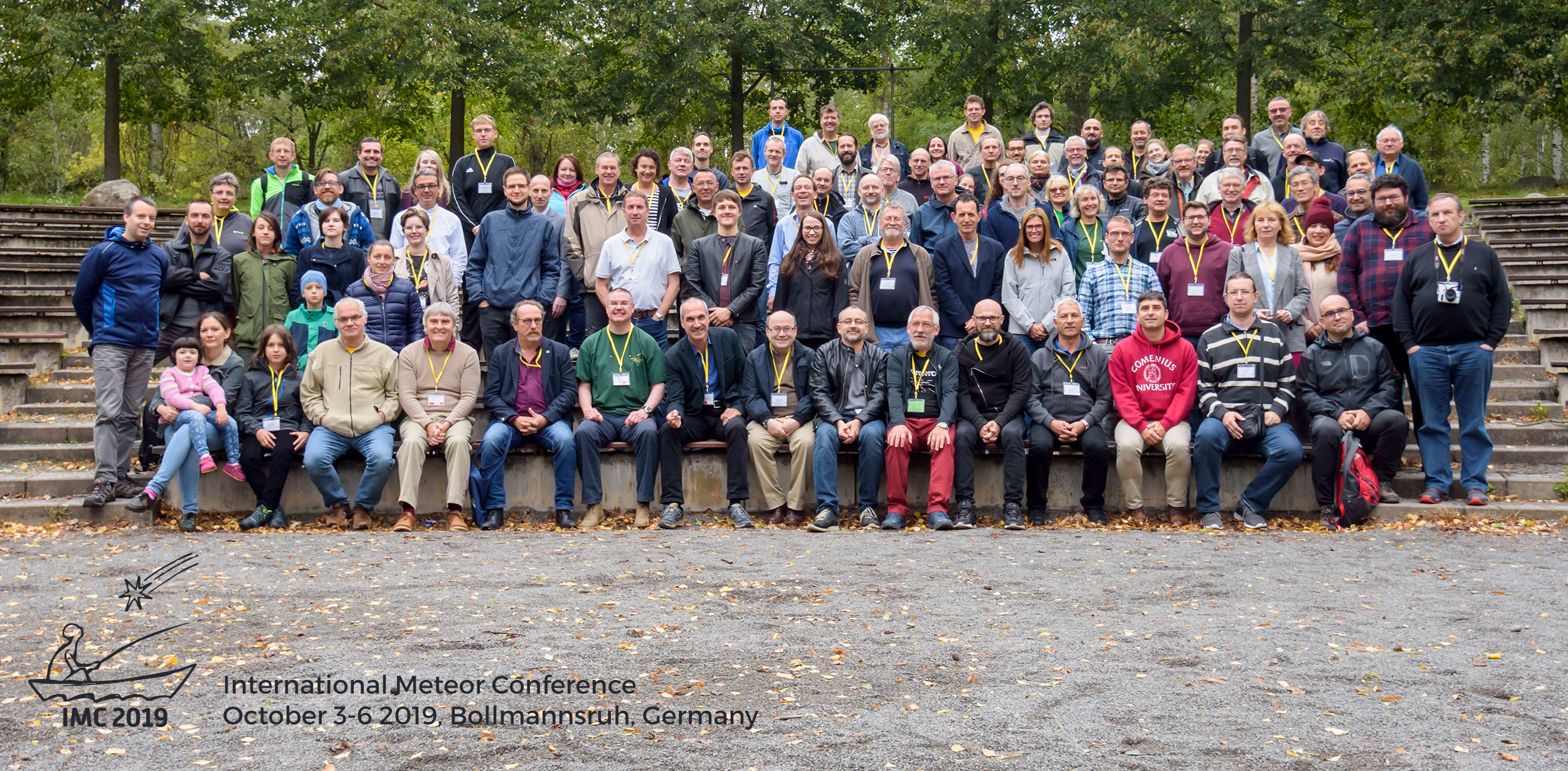 As ever, a lot of progress was made in several fields since last year. One of the exciting novelties is IMO's MeteorFlux video viewer at meteorflux.org/, which allows users to analyze either final, temporary or real-time video rates in a few clicks. As fireball networks keep on expanding in numbers and performance, it was good to see Sirko Molau's comparison of the present status of the FRIPON and All Sky 6 systems, and it was a pleasure to hear that several networks are now making efforts to detect daylight fireballs.
Of course, observations are the main input to meteor astronomy. While the merits of video, visual and radio observations are obvious, it was pointed out that IMO's fireball witness reports through fireballs.imo.net/members/imo/report_intro are very important for the NEMO system and ESA's Space Situational Awareness program.
There were far too many talks to address them all here, but suffice it to say that they covered video, visual, radio and radiometry observations, meteoroid, fireball and meteorite properties, modeling and analysis, instruments and software. As Felix Bettonvil remarked in his very well-received conference summary, this richness of subjects is a clear sign of the maturity and healthy state of our field.
Several talks addressed enigmas or poorly understood issues, such as non-sporadic "sporadics", missing fireballs, a spectral mystery, and a critical investigation of the hypothesis of the exponential distribution of meteor magnitudes. Artificial Intelligence is making great strides, and two presentations reported on applying AI techniques in meteor work. As an extra, we were treated to a thorough and captivating account of polarization in the Chilean night sky, and an interesting study of a boulder in the vicinity of comet 67P/Churyumov–Gerasimenko.
Meteor science is one of the very few astronomy specializations were amateurs and professionals have a tight relationship. Even today they work together and make use of each other's work, and this was clearly observed during this conference. While in the past most meteor studies involved just one observation method, this year's presentations showed a clear shift to multi-method analysis.
Did you miss this IMC? Go to imc2019.imo.net/program and check the presentations given by the participants. And stay tuned for the Proceedings of the IMC!
Though all these presentations are very worthwhile, I believe the greatest merit of every IMC is the informal contacts and collaborations which are made in between the talks and, especially, at the end of the day, sometimes until late in the evening. The IMC is the perfect place to reach out and connect to your fellow meteor enthusiasts around the globe.
In the name of IMO, I want to thank both the Local and Scientific Organizing Committee again for this wonderful event!
We are already looking forward to the next IMC, which will take place in Hortobágy, Hungary on September 17-20, 2020. More information will appear in WGN and at imc2020.imo.net/ in the next months.