Charles P. Olivier, founder of the American Meteor Society (AMS), started to gather data from fireball witnesses in the 1930s.
Since 2011, the AMS has accepted reports of suspected fireballs, bolides and space debris reentry from the general public through an interactive multiple steps online form. The form has been specifically designed to be usable by people with no astronomy experience.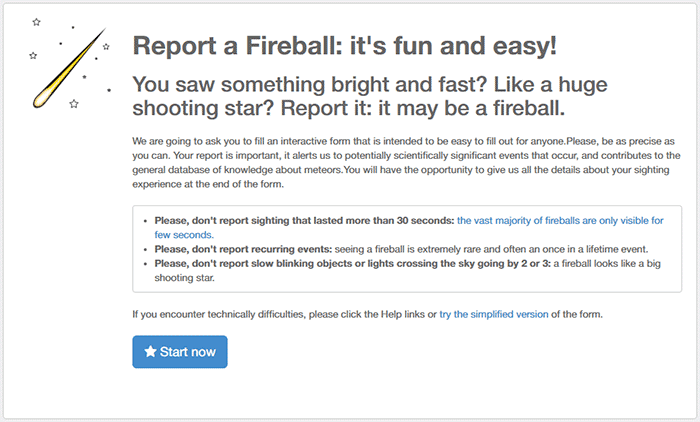 The Fireball Report Form allows collecting the following information:
Location of the witness at the time of the event (latitude, longitude, altitude, state and country)
Date, time and duration of the sighting
Starting and Ending elevation and azimuth
Stellar magnitude and color
Train information (duration, length)
Terminal Flash and fragmentation
Sonic Effect (concurrent and/or delayed sound – time and duration)
Contact information of the witness
Moreover, the form allows witnesses to share videos and photos of their sightings. We have currently 4,865 videos and 5,723 photos available on our websites.
Between 2005 and 2022, the AMS and its have received more than 266,000 visual reports grouped into approximately 52,000 celestial events. 248 of these events have more than 100 reports, 38 events have more than 500 reports  and 7 events have more than 1,000 reports. All the statistics are available online.
The IMO joined the fireball program in 2015. With the help from members of the IMO community, the fireball reporting application has been translated into 32 different languages and linked from regional astronomy and meteor clubs in various countries around the world. Each of these organizations have a now a customized version of the form.
Today, we are proud to welcome the 32th organization "Fireball Aotearoa" from New Zealand!
Any organizations interested should contact Vincent Perlerin.