Yesterday people could see a spectacular fireball over Northern Germany. The event happened on 12 September 2019 at 14:50 CEST (12:50 UT).
There are almost 500 IMO reports! Most reports came from the Netherlands and Germany, but the fireball was reported from Belgium, England, and Denmark!
If you witnessed this event and/or if you have a video or a photo of this event,
Submit an Official Fireball Report
(available in 36 languages)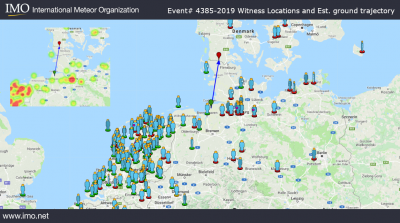 The fireball was recorded by one camera of the AllSky6 network, courtesy to Jörg Strunk and Sirko Molau for providing the video:
The fireball was detected with US government sensors. They published the coordinates 54.5° N and 9.2° E, an energy of 0.48 kt TNT and a velocity of 18.5 km/s for the event. With an assumed density of 3000 kg/m³ this would correspond to a size of the entering asteroid of about 2 m and a mass of about 12 t!
Even though there were reports of a sonic boom, a preliminary analysis of the infrasound data of the International Monitoring System of the CTBTO did not show any significant signature of the fireball in the data. The closest station had an estimated distance to the fireball of a bit over 680 km and is even located in Germany. But also this station located in Southern Germany did not record the fireball.
If you want to learn more about Fireballs: read our Fireball FAQ.