A very bright and low fireball was widely observed and filmed from Southern Quebec and Ontario on August 21, 2021, around 02h 37min UT (equals 22:37 EDT). We received nearly 50 visual reports so far: if you actually observed this meteoric event, please feel in an online fireball report form, it's easy, fast and useful for astronomers to better understand this object.
Nearly 50 visual and sonic reports of the fireball
The International Meteor Organization currently received nearly 50 visual reports of this fireball, which allows to build an automatic trajectory of the meteor that was observed from a wide region extanding from Toronto (West) to Quebec city (East), but also to Northern New York state, on the other side of the border. The bright and slow-speed meteor appeared during at least 8 seconds on August 21, 2021, around 22:37 EDT (which is 02h 37min UT). According to witnesses, it appeared to been green-bluish, with reddish train, it flared several times before fragmenteing into 7 to 10 pieces at the end of its light path. Some witnesses, especially in Ottawa, also heard it a few minutes later, like a "thunder", a "rumble" or a "low boom".
At least two videos were also recorded:
from Nepean (Ottawa, Ontario)
from Quebec, by Sam Berreda
More than 100 km of light path above Quebec
From automatic analysis of visual witnesses (Figure 1), the fireball started being luminous while it was around the vertical of Mont-Laurier (Quebec) and it went down to the South-East with an azimuth close to 160° on a path longer than 100 km. Just after crossing the Ottawa river and entering Ontario territory, it stopped being luminous as it was approximately 30 km above Plantagenet village, 55 km East of Ottawa, and 110 km West of Montreal.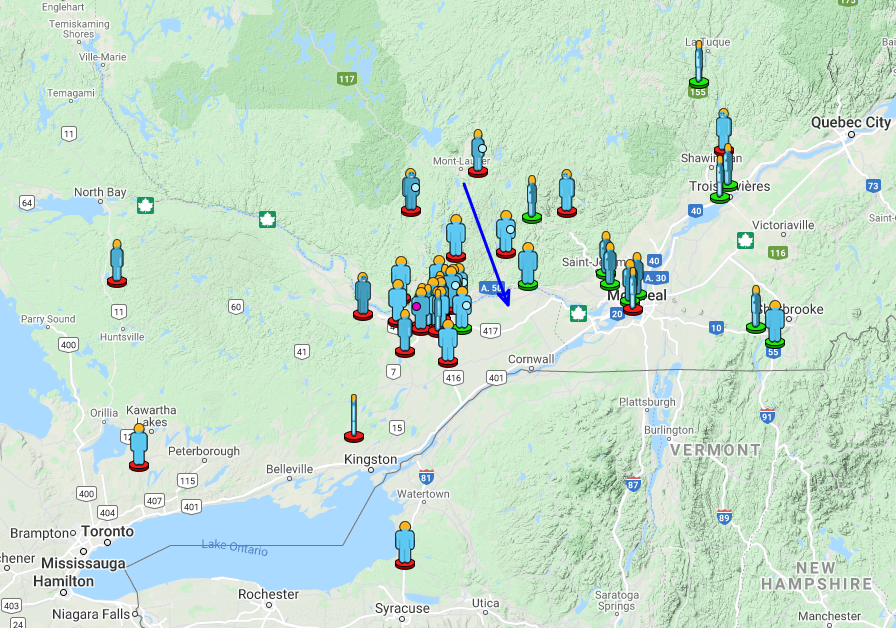 If you witnessed this event or if you have a video or a photo of them, please
Submit an Official Fireball Report
If you want to learn more about Fireballs: read our Fireball FAQ.